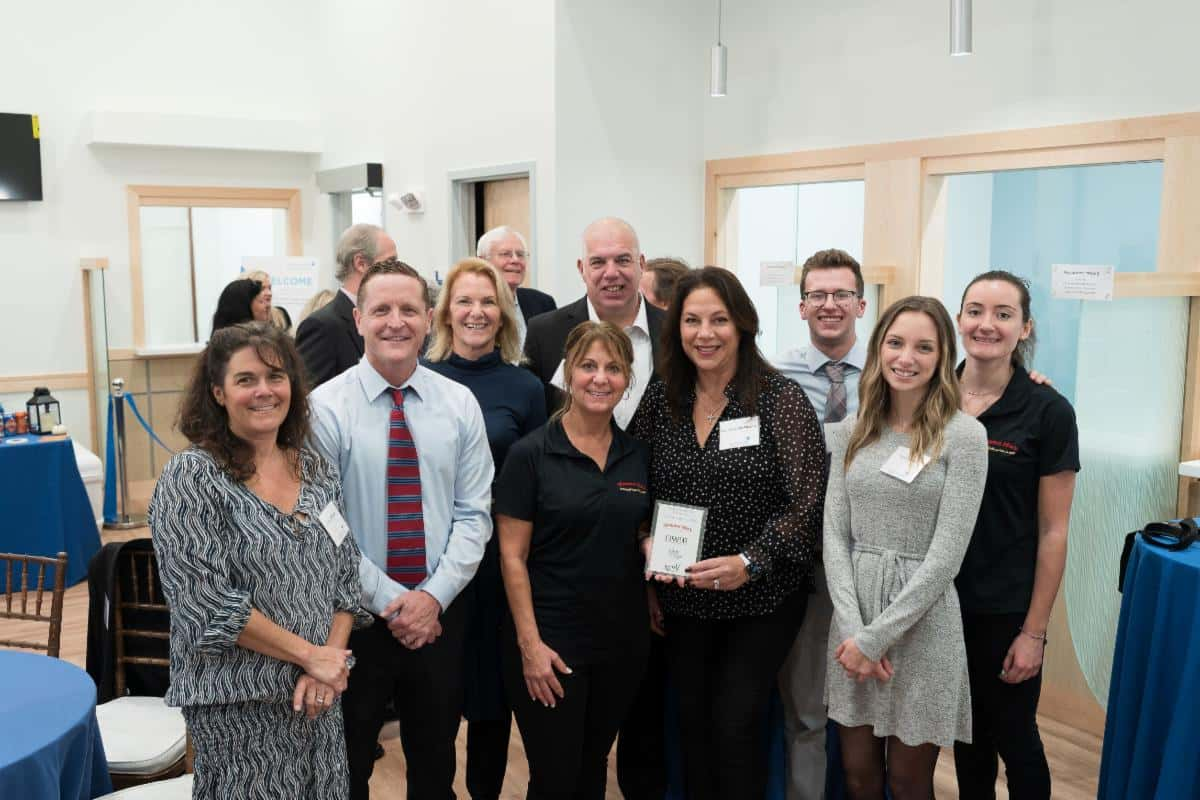 Viscariello Hospitality Group Announces Donation to Beth Israel Lahey Health Breast Center - Plymouth
Viscariello Hospitality Group Announces Donation to Beth Israel Lahey Health Breast Center-Plymouth—November 29, 2022
Viscariello Hospitality Group Announces Donation
to Beth Israel Lahey Health Breast Center - Plymouth
Employees of the Viscariello Hospitality Group participated at the Beth Israel Lahey Health Breast Center - Plymouth ribbon cutting ceremony on October 26, 2022.
PLYMOUTH, Mass. (November 29, 2022) - The Viscariello Hospitality Group (VHG) is proud to announce a $30,000 donation to the newly constructed Beth Israel Lahey Health Breast Center - Plymouth. VHG participated at the Breast Center Ribbon Cutting celebration with local business and community partners on Wednesday, October 26.
"We are thrilled to have this special opportunity to support the BID Plymouth Breast Center's advanced efforts to provide the highest quality of breast health care possible to the people of our communities," said Gina Viscariello Albanese, Co-Owner of VHG. "It is an honor to continue our partnership with the Beth Israel Deaconess Hospital and look forward to doing so for many years to come."
The nationally-accredited Beth Israel Lahey Health Breast Center - Plymouth represents a concerted effort across medical, radiological and surgical disciplines. The center provides women with easy access to the complete spectrum of clinical and support services, from screening to diagnosis, to treatment, counseling and education. Kevin Coughlin, President of BID Plymouth said, "We are pleased by the generous support of our local community in bringing this project to fruition. Donors like the Viscariello Hospitality Group who understand the impact this new facility will have on the health of our friends and neighbors, inspire us at BID Plymouth every day."
The donation supports the Beth Israel Lahey Health Breast Center's three Registration Stations in the facility. The new stations offer a safe and welcoming registration experience that help ensure patient privacy. The integrated layout offers easy access to both the Family Waiting Room and patient areas, increases collaboration, enhances team communication, and aids in patient care.
Beth Israel Deaconess Hospital–Plymouth is a non-profit healthcare and hospice provider, serving 250,000 residents of 13 communities in Plymouth and Barnstable Counties. For additional information on the Breast Center please visit: Beth Israel Lahey Health Opens New Breast Center in Plymouth — Beth Israel Lahey Health (bilh.org)
About the Viscariello Hospitality Group
The Viscariello Hospitality Group is a family-owned business that runs several popular local restaurant brands in the Plymouth and South Shore area of Massachusetts. This includes Mamma Mia's, ThreeV, Carmela's, and Mia's Catering. Learn more about the Viscariello Hospitality Group and our family of brands at https://www.viscariellohg.com/.